We are excited to see you again and celebrate homes, communities and hope.
Home is everything and you are key to helping build
these opportunities for local families. Join us to empower even
more families to achieve the stability of a home.
15th Annual Hard Hat Events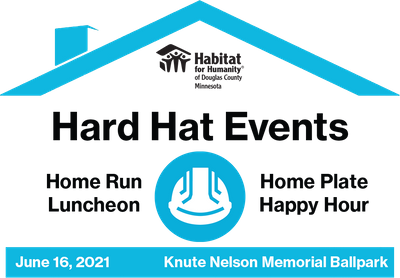 Both live events will take place at Knute Nelson Memorial Ballpark.
They will follow COVID-19 protocols, feature a light meal catered by Broadway Ballroom, music and an inspiring program featuring JeriAnn Hertwig,
Habitat homeowner and Dennis Anhalt, Aging in Place homeowner. Emceeing the two premiere events is Brooke Zabel, Habitat's Board President. We're also partnering with Kent Kolstad's Livewire team to bring the live programs and virtual experience to life.
Please contact Mary Gorghuber at mary@hfhdouglascounty.org or 320-762-4255 ext 107 with any questions or to learn about sponsorship opportunities.
---
Program Speakers
JeriAnn Hertwig

Dennis Anhalt

Brooke Zabel

Lori Anderson

Habitat
Executive Director

Lynn Evans

Hard Hat Breakfast
Co-Chair

Blonde & the Bohunk
---
2021 Sponsors
Gold sponsor:
House of Strength Sponsors:
Door to Tomorrow Sponsors:
Window of Opportunity Sponsors:
Pillar of Stability Sponsors: