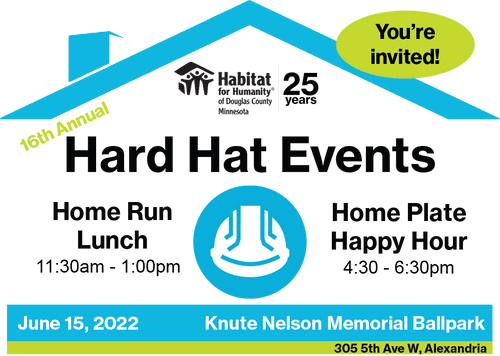 The need for affordable homes is greater than ever. The Hard Hat Events play an important role in raising funds to build affordable homes and help older adults age in their homes with dignity.
Although there is no cost to attend these events, individuals will be asked to support our mission.
RSVP for free today!              Click here to make a gift now!
Please contact our office at 320-762-4255 or info@hfhdouglascounty.org with any questions.

Both events feature a light meal and an inspiring program.  Hear directly from Habitat homeowner Jenna Hill and her mentor Greta Siegel.  Enjoy special messages from Habitat co-founders Dave Anderson & Bob Loucks, AAEDC Executive Director Nicole Fernholz, Habitat Board President Brooke Zabel, and Executive Director Lori Anderson. The Home Plate Happy Hour will feature a special musical performance by Blonde & the Bohunk.
---
With special appreciation for our sponsors:
---
Check out some highlights from our Hard Hat 2021 events!