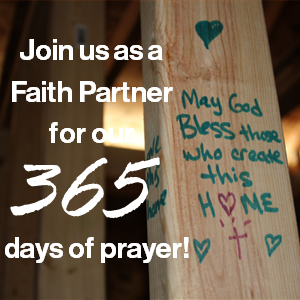 365 Days of Prayer for Habitat
Prayer and giving thanks is vital to fulfilling our mission. This year we're introducing our 365 Days of Prayer Team – a safe way for people to volunteer to support Habitat through prayer.
Simply create some time during your chosen day to pray for Habitat families, donors, Board of Directors, and the Habitat team. Feel free to share the opportunity to pray with your family, your faith community.
Here are some examples of what to pray for:
Homebuyers - as we select people and throughout the process of building
Volunteers - that they sign up with excitement and for their safety
Resources - that we have the resources we need (materials, sub-contractors, cash) to complete these builds
Community - we pray these builds add to the existing vibrant community and that the community responds with support and enthusiasm
Our mission - "Seeking to put God's love into action, Habitat for Humanity brings people together to build homes, communities and hope.
Our vision - A world where everyone has a decent place to live
---
A Prayer for Shelter
Loving God, you made us in your image and blessed us with wisdom, creativity, skill, compassion, and love. Give us sight to see your children in need, the ability to hear your call to serve, and willingness to be your hands and feet.
Empower us with your strength and wisdom to build safe dwellings. Give us willing hearts, Lord, and inspire us to action. Grant us safety and protect us as we build your kingdom through building homes and communities.
Transform our world and transform our hearts and minds. Make us into one people, your people like-minded, having the same love, being one in spirit and purpose.
Ripples for Today
Dear God, Source of who we are, and everything we are to do, in these moments, focus anew for us that in these very difficult times in our world, you call us more than ever to be an influence for all that is right and good.
To that end, create in us the image of the poet: "Drop a stone into the water; In a moment it is gone, But there are a thousand ripples circling on and on and on." 
God, we need regular help choosing the stones we drop to make the ripples. Right now, help each of us identify just one stone Jesus would want each of us to drop today. Be it love, forgiveness, peace, justice, joy, unselfishness, patience, or understanding. 
Lord, give each of us the courage and humility to drop that stone into the waters of today's realities so that those ripples might go on and on and on to colleagues in Your Habitat ministry, to family, to other friends, to enemies, to strangers, to those suffering the results of coronavirus, racial injustice, and economic hardship, to the whole world. 
Dear God, hear the prayer of each of us who is willing to say, "Let it begin with me." Amen. 
God's Expectations
Lord God, in these unexpected and difficult times in which we find ourselves, firmly remind us once again that You require and expect us "to do justice; to love kindness, to walk humbly with You, our God."
In the context of these moments, and in the coming hours and days, sensitize us to practical expressions of justice, kindness, and humility. And give us the courage to live that way, with each other, and with others with whom we have a virtual, voice, and printed contact on behalf of Your Habitat for Humanity mission, as we plan and as we strive in these unique times.
In the name and Spirit of Jesus we pray, and truly want to live. Amen.