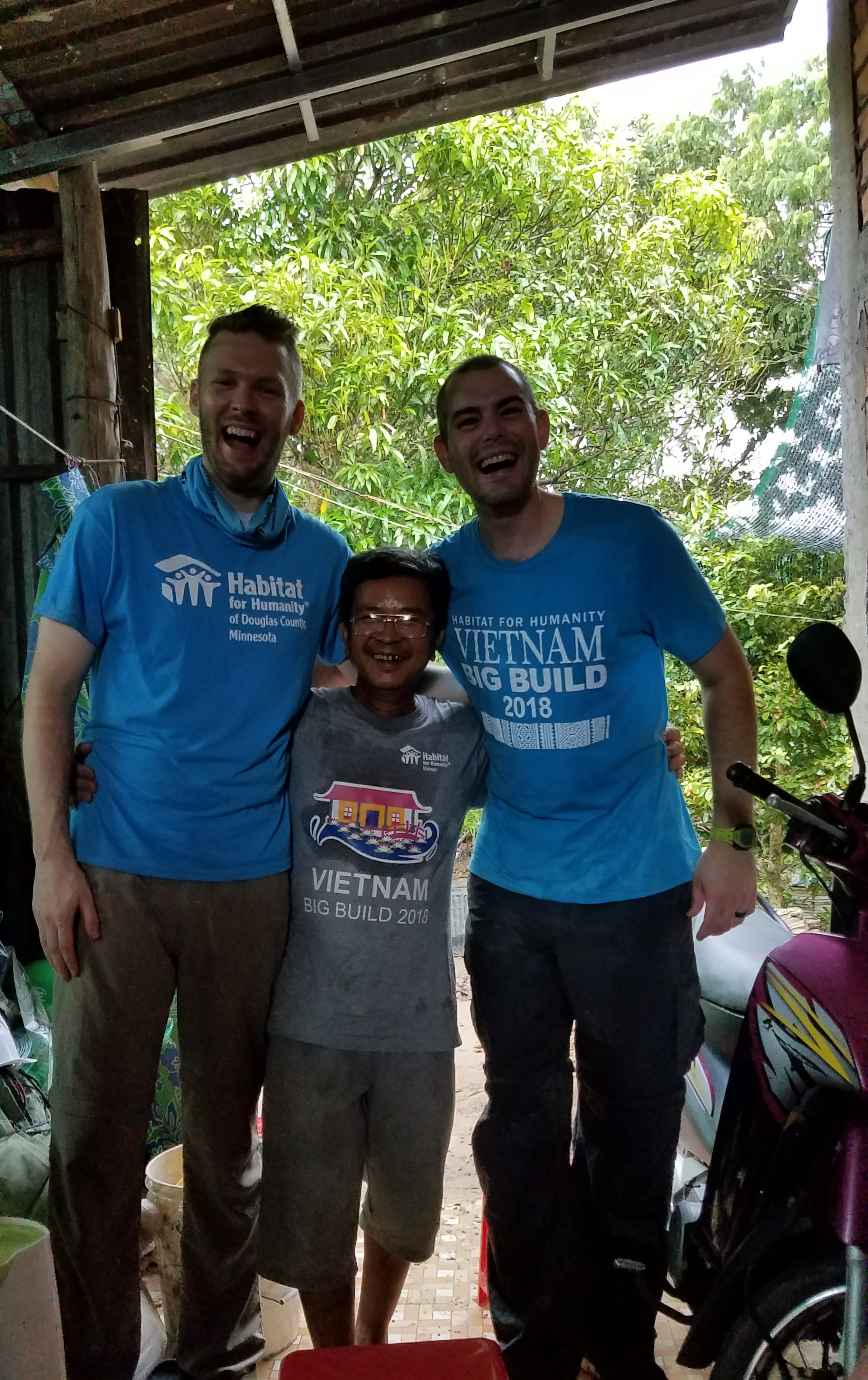 With all humility and gentleness, with patience, bearing with one another in love, making every effort to maintain the unity of the Spirit in the bond of peace. There is one body and one Spirit, just as you were called to the one hope of your calling.
I was thinking of this verse from Paul's letter to the Ephesians today as we continued work on the home for Mr and Mrs Dzung. The day started out sunny and hot with high humidity and even higher goals of getting the project along as far as possible. All of us knew that today was the last full day and we were eager to leave the house in as complete a state as possible. We were joined in the work today by their youngest son who was home from college and soon discovered that he is just as hard a worker as his father and brother in law.
From our beginning on Monday when we were getting to know each other and the family with hesitant and humble curiosity, we had developed a friendly banter with the each other as we continued to understand our human connections for laughter and curiosity. The connections that seemed so tentative had grown as each of us became more vulnerable and open to each other. We began to tease and treat each other as special brothers and sisters. We uncovered those moments when to tease and joke with in the midst of the sweat and aching muscles was the best balm that could be offered.
And then after we had hauled and were preparing to mix 30 pails of rock 20 pails of sand and bags of cement on the veranda, the skies clouded up and a torrential tropical downpour was upon us. We hurriedly covered the walls that were being built and gather under the temporary house roof and back veranda to wait out the storm. I believe this was where the glue of the bonding of peace that Paul talked about began to set for us with this beautiful family. Mr Dzung set the tea table under the roof next to their sleeping area and began to brew tea. We of course had to toast each other and laugh as we drank this cup of friendship with our gracious host. And then we had to share stories and compare sizes and heights, all the time laughing and binding ourselves to each other with gentleness, humility and patience as we waited for the rain to stop.
What a gift to our connections to have that storm bring us closer to each other. To force us to take the time to laugh and joke to see the joy and kindness reflected in each other's faces. To see the unity of the Spirit in each other's humanity. For those of us who shared in those moments of beauty inside the storm it was the tying of the bond of peace that all of us will remember.
All too soon the rain stopped pounding and we were left with the memory of those moments as we trudged through the mud to continue laying bricks, mixing and hauling the concrete to lay this lovely family's bedroom floor.