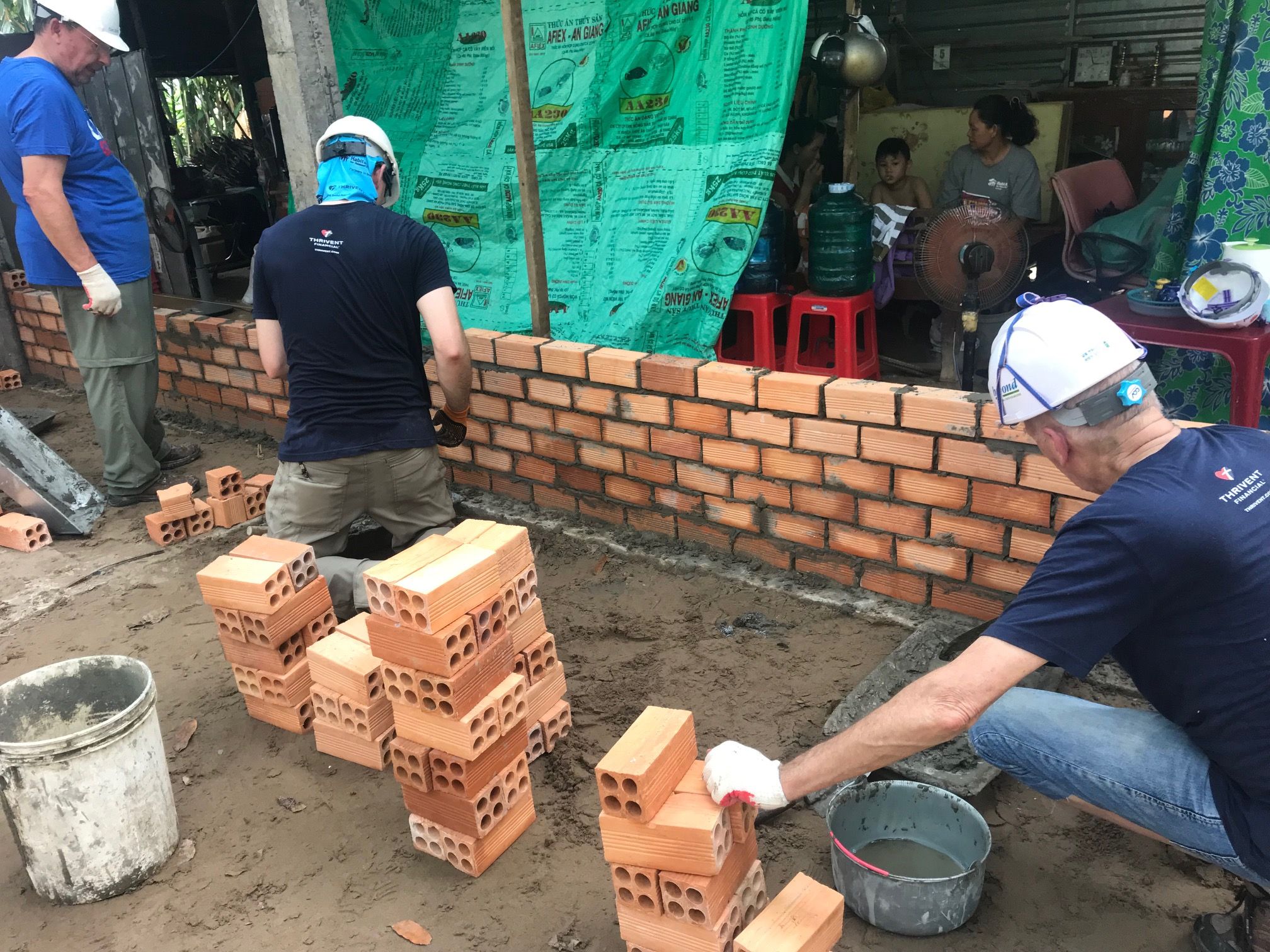 Day 2 of our BIG BUILD

Our mighty team of 14 survived our first day and welcomed day 2 with a buffet breakfast and morning devotion . It's amazing how quickly our team adjusted to our " new routine".

5:00 AM the government plays announcements (also known as propaganda) in the park outside our hotel. It is VERY LOUD and is blasted over a large area. So much for sleeping in.

We are all curious as to what the message is .......more to follow as we ask our translator. They are not allowed to speak badly about their government, and it is a delicate subject to discuss.

With every question we ask, they try to answer in the limited English they have.  The young adults want to visit with Americans. It helps them learn the English language. Some of our group went on scooter rides in Saigon, to tour the city. The scooter drivers were all college students that give rides so they can practice their English and learn more about America. EVERYONE drives scooter or motorbikes. Cars are 2-3 times more expensive than they are in the USA. Only the very wealthly own cars. Check out some of the photos on the Douglas Country Habitat website! It's really scary to try to cross the street as there are few stop lights.  Everyone on scooters just honk and drive and turn in front of each other.  We held our breath and crossed the street as a group.

We all seem to be Mastering the art of laying brick as the walls go higher and higher throughout the day. The homeowners are working side by side with us and a supervisor checks the quality of our work.  God has no hands but each of ours, so we are letting HIM do his work.

We were honored to be able to spend some time visiting with the couple who will be living in the home we are building. They are among the poorest of the poor, yet their eyes and hearts are rich with kindness. The owner's wife, Kinh, was diagnosed with Ovarian cancer, so they have many additional expenses for her treatment, as well as the loss of her income. They sold the little rice paddy area that they owned, so their oldest son could attend the University in Saigon. They realize their only hope out of poverty is through education of their children. Their hopes are for their son to be able to bring in a wage to support them. With the help of our translator we were able to have a wonderful and tearful conversation. As human beings we all yearn to take care of our families by providing the basic needs. They are giving up so much so their children can attend extra schooling. Their son-in-law is also working side by side with us, all day, and late into the evening. What hard working people they are.

We travel 30 minutes by bus to get to our worksite. As our eyes take in the trip into the remote area, our "hearts" can't imagine living in these types of conditions.

There is a bridge in the road that has a maximum weight load of 5 ton, which our bus load of volunteers exceeds. We all have to get out of the bus and walk across the bridge, then the bus drives across and we board the bus. We do this twice a day, so of course we have to get competitive and see how fast we can do it! Follow this blog to see if we can get faster each day. It took us about 3-4 minutes to all get off the bus, run across the bridge and board again. #vietnameseFiredrill

Our work day ends around 4:30 as 14 dirty, sweaty, tired ....smiling volunteers board the bus ...and welcome a hot shower.

It's hard to recognize each other after we are cleaned up and ready to explore the local restaurant. A bottle of wine and some beers seemed in order! Some things are universal as we laughed and enjoyed a few Ole and Lena jokes!