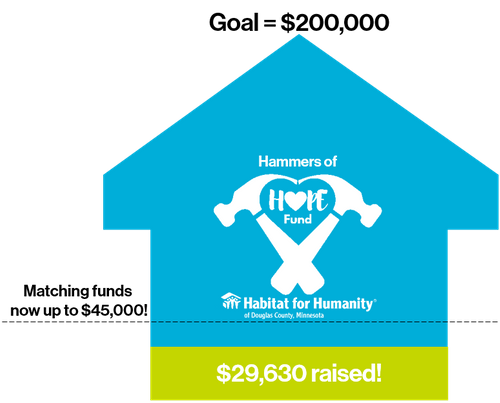 Dear Habitat Friends,
YOU are what making a difference looks like. Thank you!
You have been a critical part of the Habitat family and all that we have been able to do. We are thinking about you and your loved ones and wishing you well.
Like many people around the world, I am working from home as you may be. I'm reflecting on how grateful I am for you and for the safe, comfortable homes we are all blessed to have.
I also think about our homeowners. I think of the JOY of children playing for the first time in their own backyard. Or how the homeowners look with awe at the uplifting messages volunteers have shared on the boards in their homes. Or how they enjoy having a meal together as a family in their OWN homes.
Now, more than ever, we see families desire a safe, affordable place to call home; a place where they, too, can shelter in place.
Just like you, we want to help as many mothers, fathers, and children in our community as possible.
For the safety of the community, we will not hold the Hard Hat Breakfast or Home is the Key events this year. Instead of an in-person event, this year we invite you to make a difference for Habitat families from the safety of your own home through a donation to the Hammers of Hope Fund. Your donation will be doubled through a matching donation challenge through the end of May!
Your $5,000 gift will build a bedroom, $2,500 will provide windows for a home, a $1,000 gift will frame a wall, or $500 will buy the paint for the families waiting for a bedroom to lay their head, a yard to play in and a place to call home.
Because of you, our mission will continue - homes WILL be built this year for three families who are waiting and dreaming of their own safe, affordable place to call home. Your financial contributions will help fill the $200,000 gap we currently have to make these homes a reality.
Today - your investment will be matched dollar for dollar up to $45,000 through the end of May.  Today - you can BUILD HOPE.
YOU make a difference and bring JOY to those we serve - YOU make our work possible! Thank you.
Lori Anderson, Executive Director