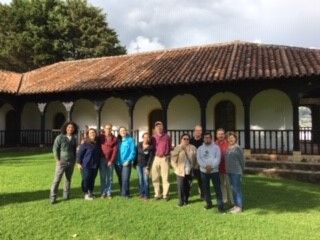 We had a very long day on Tuesday, October 22. Up at 2:30 AM, depart for Atlanta at 5:20, then depart for Mexico City at 10:55 AM from Atlanta. Delayed in Mexico City for 45 minutes. Arrived in Tuxtla Gutiérrez at 6:30 PM. Our leader, Katie's luggage was left off the flight, almost an hour of paperwork and phone calls. Lastly an hour drive to San Cristobal and a late dinner. Catherine Scholer had an even longer day as one of her flights was delayed for 2 hours and she wasn't able to get to Chiapas before Wednesday evening. She had to spend the night in Mexico City. 

We started Wednesday with an orientation session with our hosts from Habitat Mexico. What an education! In the 30 years that Habitat has been here, over 48,000 housing solutions have been provided. In Chiapas, nearly 94% of the population lives with some form of poverty and ten different languages are spoken. 1700 families have been served in Chiapas since 1994 when Habitat first started working here. Some of the most important solutions have been building masonry stoves which get rid of dangerous indoor pollution and are much more efficient at cooking and providing a heat source in the winter. 82% of those families are indigenous and it is a community-based effort of groups of 8-10 families working together. Training for the families takes up to 8 months and includes budgeting finances,  healthy living taking care of a home and a number of other areas.

We took an organic indigenous cooking class to prepare our lunch and visited a museum dedicated to Bishop Samuel Ruiz in the afternoon. A very moving and inspiring visit.